Event Planning Tips for Beginners
Event planning is growing these days more than ever before. Positioning yourself in the right place to get event management benefits can open doors for you in many ways. This article will provide you with some event planning tips for beginners. Whether planning a birthday party, a wedding, or a corporate event, event planning can be stressful and overwhelming, especially if you're new to it. But don't worry. We've covered you with some tips and tricks to make your event planning experience a little easier and more enjoyable.
Setting Goals and Objectives
When it comes to event planning, setting goals and objectives is vital. Knowing what you want to achieve with your event will help guide your decision-making and ensure that everything you do works towards a common goal. For example, suppose you're planning a fundraiser. In that case, your goal might be to raise a certain amount of money, while if you're planning a wedding, your objective might be to create a romantic and memorable experience for the happy couple.
To set goals and objectives, ask yourself what you hope to achieve with your event. Then, use this information to guide your decision-making throughout the planning process. Remember to keep your goals and objectives realistic and achievable, and don't be afraid to adjust them as needed.
Creating a Budget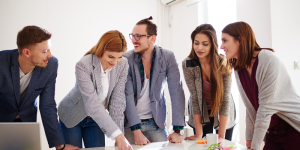 Creating a budget is one of the essential steps in event planning. Without a budget, it's easy to overspend and end up with a lot of unexpected costs. Before planning your event, sit down and figure out how much money you have to spend. Be realistic about what you can afford, and don't forget to include all the little expenses that can add up quickly.
To create a budget, start by listing out all of the expenses you anticipate for your events, such as venue rental, catering, decorations, and entertainment. Then, assign a dollar amount to each payment based on your budget. Be sure to leave some wiggle room for unexpected expenses or emergencies.
Choosing the Right Venue
Choosing the right venue can make or break your event. Consider location, capacity, and amenities when selecting a venue. For example, if you're planning an outdoor event, ensure the platform has ample space for guests and is equipped with amenities like bathrooms and electricity.
When selecting a venue, it's also essential to consider the atmosphere and ambiance of the space. Does it fit with the theme of your event? Will it create the right mood and atmosphere for your guests? Make sure to visit the venue in person and ask plenty of questions before booking.
 Hiring Vendors
Hiring the right vendors can make a massive difference in the success of your event. Consider vendors such as caterers, DJs, photographers, and florists. When selecting vendors, research them thoroughly, read reviews, and ask for references.
It's also important to communicate clearly with your vendors to ensure everyone is on the same page. Ensure to provide them with all of the necessary information, such as the date, time, and location of your event and any specific requests or preferences you may have.
Inviting Guests
Inviting guests is one of the most exciting parts of event planning. Consider the size of your guest list and the formality of your event when selecting invitations. For example, suppose you're planning a formal occasion. In that case, you may want to use traditional paper invitations, while if you're planning a casual event, you could opt for a more informal digital invitation.
Ensure you include all necessary information on your invitations, such as the date, time, location, and dress code. And don't forget to follow up with guests. To make sure they RSVP on time. You can use online tools such as event registration websites or a simple RSVP email to keep track of your guest list and ensure that everyone who needs to respond does so.
Designing the Event Space
Designing the event space is an essential part of creating a memorable event. Consider color scheme, lighting, and centerpieces when selecting decorations. You want to create an atmosphere that fits your event's theme and purpose while ensuring your guests feel comfortable and welcome.
One way to add personality and creativity to your event space is to include personalized elements, such as custom signage or unique table settings. This can help make your event stand out and give your guests something to remember.
Providing Food and Beverages
Providing food and beverages is an essential part of any event. Consider factors such as dietary restrictions, budget, and the theme of your event when selecting a menu. For example, suppose you're planning a summer barbecue. In that case, you may want to offer classic dishes such as burgers and hot dogs, while if you're planning a fancy dinner party, you may want to provide a more sophisticated menu.
Don't forget about the drinks – a signature cocktail or fun non-alcoholic beverage can help set the tone for your event. Consider offering a variety of options to accommodate different tastes and preferences.
Promoting and Marketing the Event
Promoting and marketing your event is critical to getting people excited and engaged. Use social media, email marketing, and other promotional channels to reach your target audience. Make sure to create eye-catching graphics and messaging that reflect the theme and purpose of your event.
You can also encourage attendees to share information about the event on their social media platforms by creating a custom hashtag or offering incentives for social media sharing. Consider partnering with local businesses or influencers to help spread the word and reach a wider audience.
Managing the Event
Managing the event can be stressful, but with the right tools and mindset, you can make sure everything runs smoothly. Consider using spreadsheets, checklists, and calendars to stay on top of tasks and deadlines.
It's also essential to have a backup plan in case something goes wrong. For example, if you're planning an outdoor event and it starts to rain, have the intent to move it indoors or provide guests with umbrellas. Stay calm and flexible, and remember that the most important thing is that everyone has a good time.
Following Up After the Event
Following up after the event is essential for building relationships and improving future events. Consider sending guests a thank-you note, survey, or email after the event. Ask for feedback on what went well and what could be improved, and use this information to make your next event even better.
You can also use social media or your website to share photos and highlights from the event and to thank everyone who helped make it a success.
Conclusion
In conclusion, event planning can be a challenging but rewarding experience, especially when you're armed with the right tips and tricks. Remember to set goals and objectives, create a budget, choose the right venue and vendors, invite guests, design the event space, provide food and beverages, promote and market the event, manage the event, and follow up afterward. And most importantly, have fun – after all, the whole point of events is to celebrate and enjoy life's special moments with the people you care about. Happy planning!